I have a great fundraiser. It is excellent, but I need some help with logistics and so forth.

My daughter's pathfinder unit is doing this, and the little lightbulb went on over my head when I heard it. My sister in law owns and operates a book distributing company and among her merchandise are these tins of greeting cards, "tree free", with beautiful artwork. Many of them are animal themed, I have some beautiful dog ones here right now that my son brought home for me. (He works there too)

I get these at COST. COST. Really... COST. Not the price that retailers buy them for, but the cost that she gets them for, she makes nothing on them, it's her way of suporting charity. That means we make an incredibly healthy profit on them, very very healthy.

I am hoping that we can get volunteers to sell them to their friends and family, workmates, and dog groups. My issue is that the cards are in Barrie, and people are.. well, everywhere else. That's the logistics part.

I checked out shipping - it costs (at the lowest rate I could find) around $6.50 a box, while the box itself retails for $15.95. So, shipping is likely out of the question. I don't mind making a run to Toronto, if we can get a real BLITZ going. If I have to make multiple runs, then I'm going to have to take my gas out of the profit, because I honestly can't afford it - but I sure can't do it more than once a week. Someone is going to have to pick them up and distribute them around Southern Ontario, as that is where most of our people are. I also don't mind making one run down to your place if that's necessary as it's just a good excuse to go visit you, and to see Princess again, and get myself some rottie-love. Killing as many birds with as few stones is my goal.

Can you help me co-ordinate this? If you want me to give you a call to chat about it, email me your # and a good time to call and I will. If you can think of anywhere we can set up a display, that would be even better. Hey... you work in a store... ;-)

Anyhow, I don't want to post it here as it is my sister in law's business, but I'll email you a link to her site so you can actually see the cards that are available. This is an opportunity we want to capitalize on right now before xmas, when we can make some excellent sales.
Hey Jodi...
In other news, I've been looking after Kirby, one of Barlee's pups up for adoption, whilst his foster mom is on vacation.
He is such a NICE DOG. I can't wait until we find him his forever home and I know he's going to make the people who take him very, very happy.
(
More Pictures
Collapse
)
He'll be somewhat easy to train, and is both food and praise motivated. He absolutely adores Princess (though she'd rather he leave her alone - he's too jumpy for her) and seems to really take to the woman of the home. His fur is super soft, and makes you want to pet him alot. Which is good, because he's a very physically affectionate dog. He'll rest his head on your arm and bury his nose into your chest when he wants pets.
He's got the most beautiful coloring - from black, to gold, to white and some specks of brownish red.
He's not very loud, he's fine crated on his own, he seems to be house trained (being a puppy, it just takes taking him out alot).
I hope he finds someone who can channel his energy, and give him the love and training he deserves. He's such a great dog.
I'm not his regular foster so I'm just telling you as I see it. He's a puller on the leash, but when I walked him on my own, I had that corrected (for awhile) in short order. That's why I think he'll be great to train, he so wants to please. He simply needs good excersise (I'd say about 2 hour+ walks a day, or better yet - runs) and his energy level in the house drops. We walk him and Princess alot, so that when we are home, they sleep. :) Keeps everyone happy.
Any other fosters care to share their stories so far?
It seems we've found someone to take Bongo into foster, so if everything works out he should be settling into his foster home soon. I'll update as things progress.
Current Location:

home

Current Music:

Fred playing the Wii


Fundraising ideas. Can I pick your brains?

I'm going to take Halloween as a chance to do some fund raising and whilst handing out candy to the little ones, Princess and I will be asking for donations of coin and Canadian Tire Money. I'm thinking of making her a little red super-hero cape that says "adopted" to wear while we do so. :D

I probably won't make much but every little bit helps. And I get to wear a costume. Muhahaha!

Any other ideas?
I know this group is new, and there are only a few members, but I'm hoping more will join so....
Current Mood:

chipper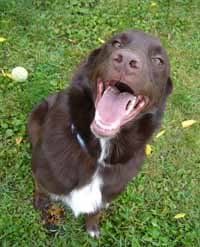 **This dog is URGENT - meaning he's reached the end of his time in a shelter and is scheduled for euthanasia. We are trying to find a foster home for him so we can take him in - we do not euthanize. We are FULL and the only way we can take him is if someone who sees his urgent posting is able to foster him for Barlee's Angels.**
Bongo is young and large, active, in need of basic training, and stressed. He's likely a border collie/retriever cross, and he's very good-looking. His biggest issue in the shelter is his hard mouth and his current low inhibition. ie - he mouths a lot; people and dogs. The flip side of Bongo is he's extremely food-motivated and when food is out he focuses on it and is very easily redirected to WORK - which is what a dog like this needs. Work can be FUN for the person - recreational obedience (in class or in-home); hiking, swimming, jogging, mental stimulation, teach him to jog along to a bike or rollerblades, even play in the backyard. He has done well with other dogs but again, plays hard - this will likely subside a bit in a less stressful environment but he is not well-suited for a home with a soft/sensitive or fragile type dog-sibling. He would likely do OK with another young, active dog or as a single dog but he needs activity. If we can come up with a foster parent for him Barlee's will provide full direction regarding how to focus and redirect his energy into positive behavior and good manners.
Bongo is pretty much a question mark with cats, and with inhome behavior. Our shelter contact is experienced and savvy in temperament assessment but that's different from behavior in a home. He can be expected to require all the basics, including general house manners and crate- and leashtraining. He's been clean in the shelter and is probably housetrained.
Bongo is a textbook example of what shelters are full of - the classical adorable puppy that someone impulsively can't resist - not understanding (or forgetting - or not caring) that it takes a LOT of work, time, commitment, knowledge and training to turn the blank slate into a well-adjusted, well-behaved dog. They don't train themselves - and if they're not raised properly, they become unruly adolescents in need of remedial everything who can be overall not that pleasant to be around. There are very few true "problem behaviors" in dogs - most are perfectly normal behaviors GIVEN THEIR ENVIRONMENT. The number of adolescent (7-18 months old) puppies like this in shelters is astounding and people who think that they tend to find homes are not spending time trying to save these dogs. The sad part is that even though it's never too late to turn around most behaviors (or to manage the rare ones that stick), these are exactly the dogs that are being euthanized in droves in shelters. Remember that "no-kill" shelters generally do not kill any *ADOPTABLE* animals and it's anyone's judgement what is adoptable - in some such shelters any dog over 6 is considered too old for adoptions; being full can bring about audits on who is "adoptable" (ie euthanasia of ones that won't likely turn quick); and dogs like Bongo who need training and show poorly are not considered adoptable. This isn't a slam on shelters - it's the reality when as society, we use euthanasia as a form of birth control and people obtain cute kittens and puppies without committing to lifetime care.
The shelter is holding onto Bongo at the request of our shelter contact since we are desperately working on finding a way to take him into Barlee's. All of our foster homes have dogs, we have one in boarding, and we are unfunded with no funds to board him. We received a "LAST REQUEST" for him last week. HE IS ON BORROWED TIME. If you would consider fostering Bongo PLEASE GO TO BARLEES.ORG NOW and fill out an application at the site (use adoption application). If you have questions on fostering please feel free to contact us at barlees@hotmail.com or here on Facebook. Info on fostering is at our site.
(
Read more...
Collapse
)
Current Location:

Home

Current Mood:

hopeful

Current Music:

Queen


My name is Jodi and I'll be the main moderator for Barlee's Live Journal. If you have any questions or concerns, feel free to message me privately on my journal, or email Barlee's directly at barlees@hotmail.com . All posts and comments to this community will be screened to keep things on topic - and friendly.

If you are a foster mom or dad, and want to post pictures and stories of the one in your care - please do so!

If you are interested in becoming a volunteer with Barlee's - or are interested in one of the animals in our care - please visit www.barlees.org for more information, or to fill out an adoption/volunteer application.

Here is Barlee's mission as posted on barlees.org:

Our Mission
Barlee's Angels Rescue Network is a non-profit, all-breed animal rescue group based in Southern Ontario, Canada. Our mission is as follows:

* To assist homeless, abused, and neglected animals by rehabilitating them and placing them in carefully screened homes

* To spay/neuter all companion animals we rehome, including juveniles, and to educate the public about the importance of spaying and neutering companion animals

* To oppose breed-specific legislation (BSL) and to educate the public about the true nature of targetted dog breeds

* To educate the public about responsible pet ownership, including proper care, pets are for life, and bite prevention

* To provide information about how to avoid supporting puppy mills, backyard breeders, and dog brokers, and how to recognize reputable breeders and rescues

Please feel free to discuss all topics related to rescue, training, fostering, education, volunteering - the works. Do you have an adopted animal? Please tell us about them! Even if they are not from Barlee's - any happy ending is something worth sharing, and experience educates!

I look forward to getting to know everyone, and sharing our love for the animals!

Sincerely,
Jodi
Proud adopted momma to Princess
Welcome to the newly formend Barlee's Angel Live Journal! My hopes in starting this journal is awareness, education, and perhaps some advertising for the dogs and cats in our care currently needing forever homes.
Current Location:

Home

Current Mood:

accomplished

Current Music:

Queen