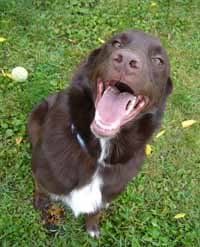 **This dog is URGENT - meaning he's reached the end of his time in a shelter and is scheduled for euthanasia. We are trying to find a foster home for him so we can take him in - we do not euthanize. We are FULL and the only way we can take him is if someone who sees his urgent posting is able to foster him for Barlee's Angels.**
Bongo is young and large, active, in need of basic training, and stressed. He's likely a border collie/retriever cross, and he's very good-looking. His biggest issue in the shelter is his hard mouth and his current low inhibition. ie - he mouths a lot; people and dogs. The flip side of Bongo is he's extremely food-motivated and when food is out he focuses on it and is very easily redirected to WORK - which is what a dog like this needs. Work can be FUN for the person - recreational obedience (in class or in-home); hiking, swimming, jogging, mental stimulation, teach him to jog along to a bike or rollerblades, even play in the backyard. He has done well with other dogs but again, plays hard - this will likely subside a bit in a less stressful environment but he is not well-suited for a home with a soft/sensitive or fragile type dog-sibling. He would likely do OK with another young, active dog or as a single dog but he needs activity. If we can come up with a foster parent for him Barlee's will provide full direction regarding how to focus and redirect his energy into positive behavior and good manners.
Bongo is pretty much a question mark with cats, and with inhome behavior. Our shelter contact is experienced and savvy in temperament assessment but that's different from behavior in a home. He can be expected to require all the basics, including general house manners and crate- and leashtraining. He's been clean in the shelter and is probably housetrained.
Bongo is a textbook example of what shelters are full of - the classical adorable puppy that someone impulsively can't resist - not understanding (or forgetting - or not caring) that it takes a LOT of work, time, commitment, knowledge and training to turn the blank slate into a well-adjusted, well-behaved dog. They don't train themselves - and if they're not raised properly, they become unruly adolescents in need of remedial everything who can be overall not that pleasant to be around. There are very few true "problem behaviors" in dogs - most are perfectly normal behaviors GIVEN THEIR ENVIRONMENT. The number of adolescent (7-18 months old) puppies like this in shelters is astounding and people who think that they tend to find homes are not spending time trying to save these dogs. The sad part is that even though it's never too late to turn around most behaviors (or to manage the rare ones that stick), these are exactly the dogs that are being euthanized in droves in shelters. Remember that "no-kill" shelters generally do not kill any *ADOPTABLE* animals and it's anyone's judgement what is adoptable - in some such shelters any dog over 6 is considered too old for adoptions; being full can bring about audits on who is "adoptable" (ie euthanasia of ones that won't likely turn quick); and dogs like Bongo who need training and show poorly are not considered adoptable. This isn't a slam on shelters - it's the reality when as society, we use euthanasia as a form of birth control and people obtain cute kittens and puppies without committing to lifetime care.
The shelter is holding onto Bongo at the request of our shelter contact since we are desperately working on finding a way to take him into Barlee's. All of our foster homes have dogs, we have one in boarding, and we are unfunded with no funds to board him. We received a "LAST REQUEST" for him last week. HE IS ON BORROWED TIME. If you would consider fostering Bongo PLEASE GO TO BARLEES.ORG NOW and fill out an application at the site (use adoption application). If you have questions on fostering please feel free to contact us at barlees@hotmail.com or here on Facebook. Info on fostering is at our site.
More Pictures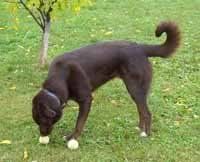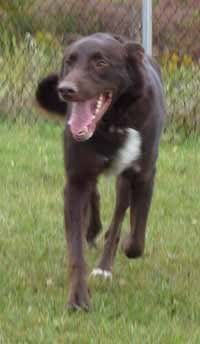 Current Location:

Home

Current Mood:

hopeful

Current Music:

Queen